What is the OSHA 10 Hour General Course?
OSHA 10 Hour General is designed to increase safety awareness. The course was produced by Summit Training Source, an OSHA-authorized 10 and 30 Hour training provider. It keeps people safe, and knowledgeable.
This course covers safety topics that are relevant to a wide range of industries. It is designed to help employers and employees recognize and avoid workplace hazards, including chemical, electrical, and fall hazards.
The OSHA 10 Hour General Industry course is available online, which means you can take it at your own pace and from anywhere with an internet connection. You'll have access to interactive learning materials, including quizzes, videos, and simulations, to help you understand the course material.
Upon completion of the course, you'll receive an OSHA 10 Hour General Industry course completion card, which is recognized by OSHA as proof of completion. This card is valid for five years, after which you'll need to complete an OSHA 10 Hour General Industry Refresher course to renew your certification.
The course is broken down into several modules, covering topics such as: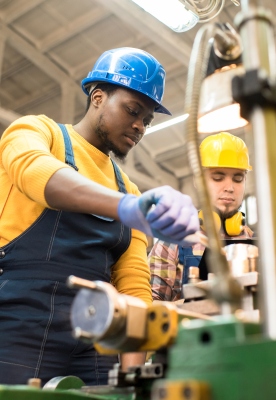 Introduction to OSHA
Walking and Working Surfaces
Electrical Safety
Hazardous Materials
Personal Protective Equipment
Machine Guarding
Safety and Health Programs
In each module, you'll learn about the relevant OSHA standards and regulations, as well as best practices for staying safe on the job. The course also includes case studies and real-world examples to help you understand how to apply what you've learned.
One of the benefits of the OSHA 10 Hour General Industry course is that it helps employers meet their legal obligations to provide a safe and healthy work environment for their employees. By completing this training, you'll be better equipped to identify and address workplace hazards, which can help prevent accidents, injuries, and illnesses.
Where Do I Need OSHA 10 General?
The Occupational Safety and Health Administration (OSHA) 10-hour General Industry training is required by some states for workers on public-funded projects. However, the specific requirements vary by state, and it's best to consult the state's laws and regulations to determine the exact requirements.
Here are some states that require OSHA 10 General Industry training for workers on public-funded projects:
Alaska
Arizona
Arkansas
California
Colorado
Connecticut
Delaware
Florida
Georgia
Hawaii
Idaho
Illinois
Indiana
Iowa
Kansas
Kentucky
Louisiana
Maine
Maryland
Massachusetts
Michigan
Minnesota
Mississippi
Missouri
Montana
Nebraska
Nevada
New Hampshire
New Jersey
New Mexico
New York
North Carolina
North Dakota
Ohio
Oklahoma
Oregon
Pennsylvania
Rhode Island
South Carolina
South Dakota
Tennessee
Texas
Utah
Vermont
Virginia
Washington
West Virginia
Wisconsin
Wyoming
It's important to note that these requirements may change over time, so it's always a good idea to double-check with the state agency responsible for regulating public-funded projects. Additionally, some states may have additional training requirements beyond OSHA 10, so it's important to be aware of those requirements as well.

Do I Need OSHA 10 Hour General or Construction?
The OSHA 10-hour General Industry course and the OSHA 10-hour Construction course are both designed to provide an introduction to occupational safety and health. However, they are tailored to the specific needs of workers in different industries, and the content covered in each course varies accordingly.
If you work in an industry that involves manufacturing, healthcare, warehousing, or any other industry outside of construction, then the OSHA 10-hour General Industry course is the appropriate course for you. This course covers a wide range of topics, including hazard communication, personal protective equipment, ergonomics, and electrical safety. It is designed to help workers identify and control hazards in their workplaces and comply with OSHA standards.
On the other hand, if you work in the construction industry, including building, renovating, or demolishing structures, then the OSHA 10-hour Construction course is the appropriate course for you. This course covers topics such as fall protection, scaffolding, excavation, and electrical safety as they relate specifically to construction sites.
Related posts