Posted on
November 30, 2022
in
How Team Building Can Support Safety Culture in 2023
Some safety culture solutions tend to be more reactionary than the subject warrants. Team building, on the other hand, involves creating an environment that promotes lengthy tenures and, as a result, loyal workers. The two are connected. Employees who are eager to learn and support a positive safety culture are produced through team development.
It's simple to see how enhancing a company's safety culture might result in advantages like fewer accidents or fewer worker's compensation claims, but a truly strong safety culture can achieve much more than that. It becomes a strategy that boosts collaboration, encourages long-term success, and raises employee satisfaction and retention if you see it as a crucial component of a company's overall workplace culture.
The same might be said of team-building activities. They are frequently undervalued, but they can be unexpectedly beneficial when included in a larger strategy to improve safety culture. Effective leadership is necessary to foster a strong safety culture, and it should go far beyond merely putting the correct policies and procedures in place. In light of this, let's examine how team building and safety culture might complement one another in 2023.
Explore this Article:
Team-Building Activities
Building a team requires creative thinking. Furthermore, you may want to ask your team for ideas.
Team building activities can also be combined with safety responsibilities. These can help lay the groundwork for coordinated responses to workplace emergencies. Drilling team members on emergency responses can actually be fun which creates bonds and helps the team-building process.
The most effective method of workplace training instruction, according to OSHA, is activity-based learning. However, simply having staff members practice incident response protocols is insufficient. It's also suggested to engage in team-building exercises to encourage employees to feel more personally committed to the group's success. There are countless team-building activities to do, but here are some of the most popular ones:
Two truths and a lie – Essentially, coworkers create 3 questions and within the answers, there are two truths and a lie. This can be used to introduce coworkers to one another or the questions can be pre-selected to test participants on safety-related subjects.
Safety-themed scavenger hunt – If your business already has incident response plans in place, you might use a scavenger hunt that replicates each stage of a particular incident response plan to evaluate employees' understanding. A hazardous substance leak should be handled by one team, a workplace injury by another, and so on. In addition to their answer times, participants' scores in the scavenger hunt can be based on how many tokens they managed to collect.
Safety game show – Use tools like Ask the Audience and Phone a Friend to mimic the conventions of well-known game shows, but ask questions about workplace safety in place of trivia. Participants will feel more motivated to get every answer correct if there is a fun incentive up for grabs!
Minefield – Employees divide into pairs, one of which has a blindfold on and the other does not. In order to guide the first person through an obstacle course, the second person must only give verbal instructions. This activity promotes cooperation, trust, and communication.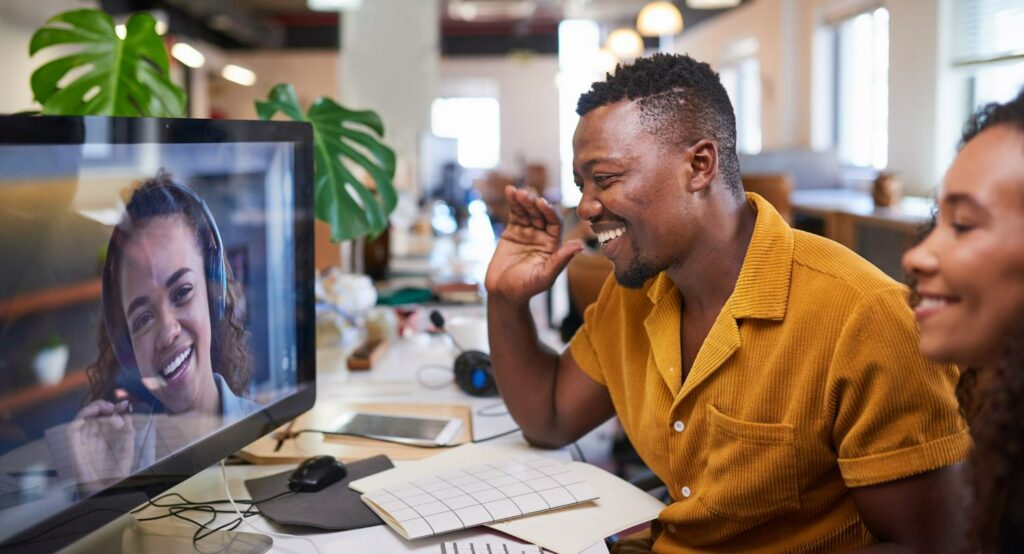 Team Building Activities for Hybrid Workplaces
The pandemic may have accelerated the work-from-home trend, but many organizations are now embracing it for their own reason, not only out of necessity. Remote workspaces provide many advantages, but they also present some difficulties. It is obvious how hybrid workspaces complicate problems when you look at how team-building strategies are affected. The goal of team building is to bring individuals together, but when they aren't all in the same place physically, it can be more difficult.
But team building isn't over just because you work remotely—far from it! No matter how geographically separated their workforces may be, they may still engage in team-building exercises with the use of tools like Zoom, Skype, Slack, and other networking platforms.
Despite the fact that most organizations are still primarily located in physical locations, remote workers shouldn't be forced to take a backseat when it comes to team-building exercises. Remote workers are more likely to feel lonely, as you might expect. The good news is that virtual team-building exercises (like the ones listed below) can significantly improve how included and valued distant workers feel.
Remote/Hybrid Workplace Team Building Activities
Set up a virtual workplace Olympics – There are many online activities (such as icebreakers, trivia contests, etc.) that can encourage healthy rivalry between everyone in the company, even though remote workers may not be able to play physical sports together. Select the games that will be played, convene everyone using a video conferencing tool like Zoom, and then watch the action unfold! It is advised to employ at least a few team-building games so that players can practice cooperating to achieve a common objective.
Establish virtual "water cooler culture" – The informal conversation that usually forges bonds coworkers is missing for remote workers. Donut, a Slack addon that allows participants to pair up in their own channel for a half-hour video conversation, can be used to remedy issues. Employees can talk about anything that's on their minds during coffee or lunch breaks with this method.
Host a virtual escape room – Although there aren't four actual walls involved, online players in virtual escape rooms must still work together, be creative, and solve problems.
How Can Team Building Support a Safety Culture?
As was already said, creating a safety culture has more advantages than just lowering workplace accidents and associated expenses, though that is still one of its main objectives. A safety culture improved through team building has many autonomous benefits.
Employees on a well-built team will naturally care more about their co-workers than those in a compartmentalized organization. This creates innumerable advantages relative to a safety culture built on procedural learning and signage.
That's not to say signs aren't important, but a team-empowered safety culture fosters an environment where the employees are more inclined to help each other, share stories, and share relatable procedures that can avoid mishaps.
There is a lot of overlap between the advantages of improving safety culture and those of team development, which is why the two complement one another so well. But given how quickly workplaces are changing today, we must change how we approach team building and safety culture to make them more accessible to all workers.
Related posts