Posted on
June 2, 2022
in
How to Future Proof your Safety Management System
Future proofing your safety management system can be difficult, however, attempting to work in today's industries without the help of modern software tools is much harder. That's because the new trend with safety is documentation, and there's a reason for that. Keeping a history of incidents prevents those incidents from becoming a recurring problem. Yet, what do you do with all the documents you could be asked to provide legislators? Or how can you organize the reports to extract valuable information when you need it without tasking employees' costly hours of searching and categorizing through filing cabinets and office networks?

Streamlining Your Incident Reporting
Incident reports require multiple perspectives and signatures. Not to mention, legislators typically ask for digital copies. So at some point, even if you're documenting everything on paper, you'll have to upload it. This is one incentive for future proofing via software. Incident reporting systems have proven they are well worth their modest costs. They unify your data so your software can access it without administrative work, and they archive it with ease. You can avoid countless hours and aggravation when using systems such as these.
Future Proof Your Training
What does the future of training look like? OSHA training requirements seem to demand a lot lately, but with a unified Learning Management System, compliance is a breeze. Not to mention, after you've implemented all the training requirements — if you haven't already — your company should be all the safer.
Businesses that fully commit to safety in the workplace understand training is a key component. It creates awareness, which is essential in prevention. In order to get ongoing positive results with safety, training needs to be made a priority for the workforce. Not to mention, the commitment from management needs to be clear, as it captures and fosters the positive safety culture. Access to a Learning Management System, or eLearning system, enables fast accessible wisdom for staff in the future. Whether they're on site, in office, or at the shop, they can all see the centralized information and take whatever courses they require.
Storing Your Expert Procedures
Part of future proofing safety entails mitigating worst-case scenarios. One example would be to assume your organization's entire health and safety department resigned tomorrow and creating documentation that can facilitate new staff in the replacement process. This will not only help in the event of this worst-case scenario, but it will also encourage your staff to align their protocols with your desired safety culture and goals.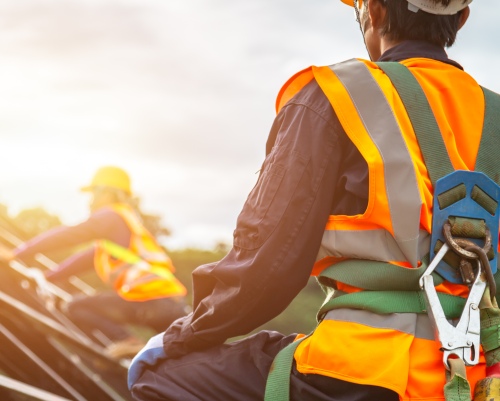 The documentation stage is relatively simple — if archived properly. If you have a large amount of documentation, software tools can help you organize the process with features like digital folders. These products are much more than a folder, they're a means to automate much of the administration process and grant access automatically to the pertinent users.
Consider how easy it is to find your documents in the event of a crisis. You may find that software with its automatic audit trails saves you more than enough time and money to implement. An organized series of documents would enable a new team member or even another department to be able to pick up where someone left off, without having to rebuild an entire safety management system from the ground up.
Equipment Management and Trend Analysis
To track your equipment and maintenance cycles, you could use Equipment Management software. With this software, you can even track hazardous products and couple them with digital forms or associated safety data sheets. With QR codes and Equipment Management software, you can even save time with data entry while it centralizes all your information, granting all departments insight.

Another benefit of integrated safety management software is it can effectively track an organization's injury and accident data using information from incident reports, toolbox talk software, and other tools integrated in the system. Being able to track this data and perform trend analyses allows the organization to gain insights into what job tasks or work equipment might be the leading cause for injuries in the workplace. Having a historical record of incident data also allows trends to be tracked over time, where corrective actions can be measured for their success or lack thereof‌.
Furthermore, safety software allows anyone with access to the cloud computing software to view the data. It also can provide audit trails to legislators at the click of a button. This is vastly better than tracking down physical or digital documents and attempting to prove they have not been doctored. A safety management system that stores incident data, as well as corrective actions taken in the past, is a great way for a business to future proof their safety management system. The ability to look at past incidents and past implemented corrective actions will steer a company's safety department in the right direction.
Defining Your Safetys Fate Through Goals
Defining safety goals can be another effective strategy when future proofing. Without defining goals, safety departments are blindly implementing initiatives that may or may not benefit workers. Creating goals and having leadership commit to those goals is a long-term solution. After these goals are defined, consider holding a toolbox talk or meeting to harmonize your team. Specialists who know what the company goals are, and staff who feel comfortable communicating opinions, are more likely and able to help the company maintain its safety vision.
Using AI to Stay Ahead of the Curve
Safety management systems are evolving due to demand. The latest technological advancements include predictive artificial intelligence that can provide insights into at-risk behaviors. When AI is used in safety management systems, it boosts the capabilities of providing actionable feedback to management to reduce workplace hazards. Especially when you consider the only other way to get that information would be through practice — which could harm your specialists in the process.
Yet, AI for most is out of reach, so using trend data and team members' insight can be a powerful solution in the meantime.
Future Proofing Safety Summarized
Future proofing an organization's safety management system should be considered a timesaving reform rather than an expense. Inadequate safety documentation normally leads to repeated incidents which can cost more than money, it can impair or shatter livelihoods. Asset management should also be considered for centralized information and a clear overview of maintenance. With all these systems in place and preferably integrated under the same platform, you can feel good about doing everything you can to not repeat incidents. This allows you can see what is happening within your organization throughout time and many locations. Your safety system will have accountability and proof of diligence, while it arms your staff with all the information they require to perform safely. The future has many safer options, you just have to choose which are right for you.
Related posts