Your Training Development Specialists are Here!
Many companies have unique training requirements, some of which remain unfulfilled due to the expenses in custom training development and a lack of relatable content. One solution is to develop your own training courses, yet this requires equipment, expertise, and time companies just don't have. So, why not outsource your training development to experts?
Today we'll guide you through a process that is much easier than you think and will grant personalized training that even other companies can relate to. Your course may even become an industry-standard if your ideas resonate with your niche. So, let's review the opportunities training development can offer your company.
Benefits of Training Development
Custom Training Development can provide: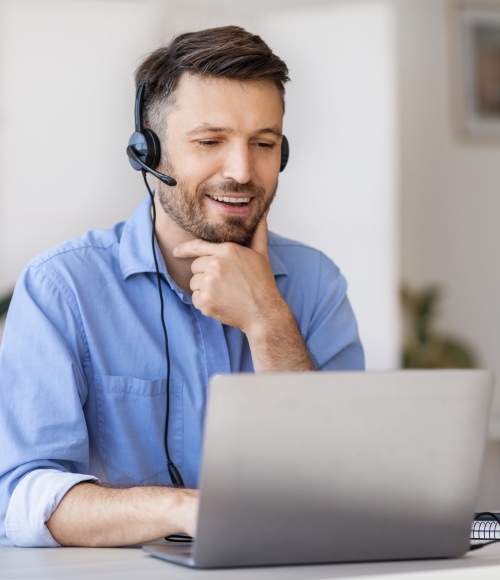 a safer workplace
a more productive workplace
relatable content
unique perspectives
focussed content
additional revenue via royalties
company branded material
peer-reviewed scripts
customization
Common Training Development Questions
There are many misconceptions when it comes to training or eLearning development. So, before we discuss more opportunities, let's answer a couple of common questions and unique solutions BIS offers.
Does the Developer Own the Content?
No – You can own your own training development content and pay a flat fee for production if you use BIS Safety Software's training development team. This means if other companies are using your training or eLearning video, then you'll receive royalties. So, training could bring in additional revenue along with its relatable safety lessons.
Do you Have to Develop Your Own Script?
No – BIS specializes in the entire process. We will meet with you and work to understand your vision, then from there, our apt writers will bring your training to life!
The Nine Steps to Training Development
Discovery Meeting:
The discovery phase is all about your ideas. How we can relate the training to your staff's experience, and what will be required to bring it to life (on-site photos/videos, etc.). We offer everything you need to create influential material that can not only mitigate risk but guide a better culture.
Quote:
After the discovery, our team should have a good idea of what services you'll require and provide you with a transparent quote. All expenses are clearly defined and labeled and we're happy to discuss and clarify, if possible.
Script Development:
At the training development script stage, we'll guide or even write your script. People learn best through storytelling and that's why BIS has carefully selected great writers who know how to keep the material practical, educational, and intriguing. We know what makes people engage and think, as well as what makes them yawn. With both in mind, we strive for riveting content that avoids patronizing the viewer while also keeping them interested.
Voice-over:
We have many voice actors to choose from. So once your script has your approval, we move on to your voice selection. Selecting a voice actor can make or break your training, so having ample choice is a key component of a good course.
Story Development or Course Storyboarding:
Once you have a voice actor, it's time to view what our storyboarding team has done for you. Think of it as a better visualization of your course. Our trained pros will guide you through each scene and fine-tune it to your liking.
Film/Photo Shoot:
Now that we've done as much as we could with pens and paper (AKA computers), it's time to start gathering the footage and photos required to relate the content to your experience. Our professionals will travel to your site and gather anything required using captivating angles.
Graphics and Editing:
Here's where our specialists really bring in the tricks of the trade. We have 3d animators and graphic specialists on standby, ready to fill in any gaps left in the filming process. 3d animations can show the inner workings of machines, different angles, and clean scenes that help people focus on the learning material and not the scenery. Then during the editing, there are many "aftereffects" that can be added to drive your training home and leave an impression on your viewers.
Your Review:
Your feedback will be welcomed at every step, yet the review phase is the phase where we make sure you're completely happy with the product. Training development is an art and we want your content to surpass your expectations while still maintaining your vision.
Finished Course:
Finally, we hand over your course complete with all the material we produced for you in the process. The content is all yours and you're free to distribute or sell it however you please. You get access to every image and all the raw video that we captured along the way. None of your content is held captive.
Training Development Summarized
Custom training is an incredible way to create awareness and build the skills of your team. However, awareness can be clouded by environmental and unrelatable factors. If you find your employees aren't receiving the training you require, you may not be alone. It's possible there are other industry experts who share your concerns.
If you feel you could do a course slightly better than what you've seen, it might be a good idea to create your own with the help of BIS. A producer's idea of an industrial forklift operator can fall far from reality. That's why the culmination of your ideas with our professional course developers can make all the difference.
I could carry on for days, but our past partners' and clients' opinions carry more weight. Martin Lesperance, the founder of Safety Health Publishing said:
I have used the folks at BIS Training for two projects now: my blended learning first aid program and my wilderness awareness program. They have been a pleasure to work with. BIS gets things done when they say they will. They are very responsive to my needs. Thank you to the folks at BIS Safety.

Martin Lesperance
Jessica Siebold, Safety Advisor, and Program Development Coordinator at MHSA states:
The experience with the BIS Course Development Team has been phenomenal. [They] were attentive to our many demands and had such delightful attitudes toward the project. They walked us through development in terms we could comprehend and were ready and willing to jump into an impromptu meeting anytime we asked. This was our first, but certainly won't be the last course development project we partner with BIS on.

Jessica Siebold
So there you have it. Course development has never been easier. And if you have unfulfilled training needs, others might too that could appreciate your insight. When you're ready to turn your training into content, we're happy and willing to make it happen.
Related posts