Posted on
March 24, 2022
in
Working at Heights and Fall Awareness S­­afety Tips | OSHA Compliance
Working from heights requires patience, skill, and concentration. Some people have worked years safely in violation of some of OSHA's rules. However, just because it worked for them doesn't mean someone else wouldn't get hurt.
That's where dry safety legislation comes in; it makes it safer for the general populous. Despite their often-boring characteristics, OSHA legislations have undoubtedly saved and educated many people. So let's dive into OSHA requirements and place them in a more relatable context.
OSHA's Working at Heights Criteria

Before work can be performed at heights that exceed four feet (in general industry), management must guarantee the proper rails and fall protection equipment is installed. OSHA has 4 different categories for fall protection seen below:
4 feet in general industry
5 feet in shipyards
6 feet in construction
8 feet in longshoring
If you exceed any of these heights in your industry, then you require fall arrest protocols in order to comply with OSHA. OSHA's working at heights protocols include…
Guarding on Open Pits or Holes:
When open holes or pits are accessible by workers, you must cover or rail them. Your railing must also contain a "toe guard" or "toe board". The toe board, for all we know, has saved countless lives. It's just another common accident OSHA and other governments have successfully mitigated.
Handrails for Walkways: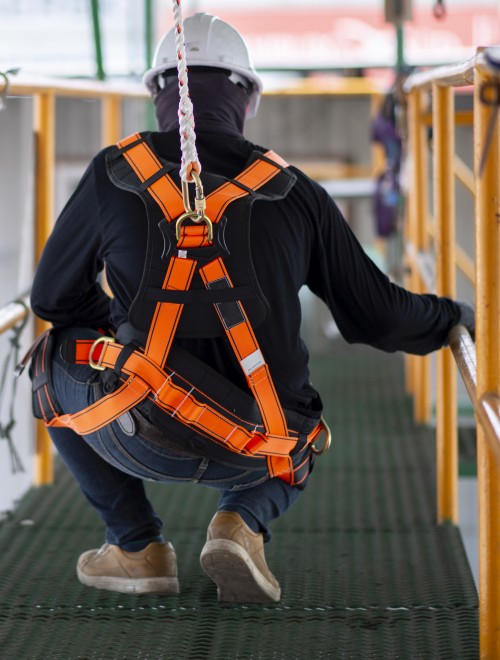 Walkways lifted slightly off the ground can trip someone. They can create a slight edge or lip that can stutter colleagues or trip. That's why OSHA requires all lifted walkways, or "elevated" as they explicitly state, to be handrailed and toe boarded.
Note: Most handrails must be toe boarded. The most common and widely accepted trade used for handrail construction is ironworkers. They use special tie-off techniques with harnesses to remain safe themselves during the process. For a video on fall arrest construction, click here.
Covering Everything Dangerous:
It sounds obvious, but OSHA also states that covering conveyor belts, molten steel, or anything dangerous is also mandatory. Handrails or covers usually suffice, however other forms of guarding can be required. These things may seem easy to avoid, but not when you're distracted with your task, like so many dedicated employees have been in the past.
Harnesses or Nets:
These too, are required in elevated areas where handrails are missing. Harnesses are much more common than nets, but both seek to catch the operator in case of a freefall.
Screens:
If you're working at heights there could be a chance you could cause falling debris. If so one of the following is required by OSHA regulation:
Other Requirements
Employers are also responsible for providing personal protective equipment at no cost to the employee. OSHA compliance and general safety also require work areas should remain as clean and clear of debris as possible.
In short, an employer is responsible for providing working conditions free from known dangers. This should eliminate any avoidable incidents. After these guards are in place it's up to the employee to remain safe.
Employee Awareness
Even when you've met all of OSHA's requirements, your employees still hold most of their safety in their own hands. Dangers are not always obvious. There could be some good safety tips your colleagues are missing. Awareness training and online courses could be all you need now for safe aerial work.

There are many simple relatable courses that can quickly give your staff or colleagues any awareness they're missing. Plus, most of them can give certification that day! Online Fall Protection courses for instance can provide quick facts allowing your staff to get on with their tasks.
Another great awareness teacher is your veteran staff. Getting your seasoned staff to recite personal experiences can help your new hires see other perspectives or unique dangers in your environment. For more on safety awareness and culture, try this article.
OSHA Aerial Work Compliance Summary
Complying with OSHA can be confusing at times, but when it comes to working at heights, it's pretty routine stuff. Many contractors and industrialists have already implemented much of the requirements.
If something looks dangerous, then it needs to be addressed. And due to height being a natural danger, many precautions should be used.
Falling debris and other dangers are some of the few that get overlooked, but just remember, if people are walking under your work platforms, you need to guard against falling objects.
A good bet is to imagine yourself with your hands full and your concentration burdened. Are there any dangers you can't see or dodge? If there are, use one of the above protocols to address them and your staff should have nothing to worry about.
---
Written by Jordan Kovacsik – BIS team member, author, and safety enthusiast who worked in the steel industry for a decade.
Related posts