Posted on
October 20, 2021
in
What is a Training Matrix and Why Do You Need One?
When you tell your employees about a new training course, how do they react? Do they look forward to learning new skills with enthusiasm, or do they groan and view them as a time-consuming chore? If you're not getting the response you would like, maybe the courses are repetitive or only relevant for a few employees.
Does this sound like your company? You could use a training matrix to pick and assign courses more effectively – where each employee learns relevant and useful topics for their job.
The name might sound techy, but a training matrix is a simple concept. All you need is a spreadsheet where the rows contain employee names, the columns contain skills, and cells are used to assign and track courses covering the skills needed by each employee.
When a skill is not necessary for a job, that cell will be left blank. For example, if a course covers heavy equipment, there's no point in assigning it to the marketing and finance departments.
When a skill is necessary for a job, the corresponding cells show who has completed the training. You can then easily view if anyone is missing important courses. You can also use it to assign optional courses, in cases where they are helpful but not a top priority.
Pretty simple, right? However, when you have dozens of courses on file and hundreds of employees, keeping track of training can become a full-time job! In these cases, you could look into a Learning Management System (LMS) with a built-in training matrix to automate the job.
Why Do I Need a Training Matrix?
While it is possible to assign courses and keep track without a matrix, we don't recommend it! Ask anyone who has attempted this, and they will surely mention all the trouble involved. When your employees are taking courses that are repetitive or irrelevant for their job, maybe they were not assigned properly in the first place.
If your company has different job positions that require unique combinations of skills, an online training matrix is the best tool you could ask for. It summarizes all you need to know on a single screen and allows you to assign a complete training program in an instant. A task that could take hours if you have separate training records for each employee.
A training matrix is useful for any organization, big or small. It helps improve your training program, which means your company builds skills to outclass the competition.
What Are the Benefits of a Training Matrix?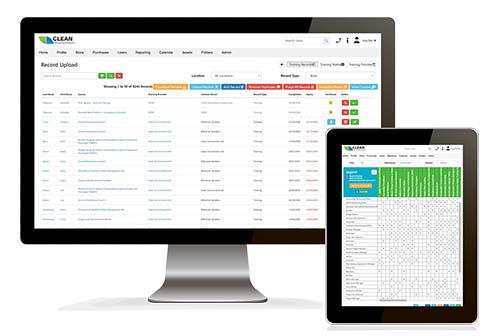 An online training matrix is a simple tool that does a complex job. Supervisors can find training gaps, assign courses and track progress from a single screen. Employees can easily see which courses are mandatory and high priority, and which are an asset to have, but not necessary. You can easily track individual progress, even in a large corporation, and you can know who has finished which courses with just a few clicks.
When your company starts to use a training matrix, you can expect the following benefits:
Tracking Employee Training
Did you assign a course recently and want to check on progress? A training matrix can give you a clear picture within seconds, answering any question you might have:
Who is the course assigned to?
Who has already finished?
Who is halfway through the course?
Is there anyone who hasn't started?
A training matrix keeps a detailed record of everything related to training: by skill, by course, by employee, by department, etc. This information is crucial during an audit!
Convenient
A training matrix can combine thousands of individual records into a table that is easy to read and update. Without one, you need to keep a training file for each employee, and updating those is a time-consuming job that never ends! What do you prefer? Dealing with hundreds of documents, or having all the information you need in a user-friendly training matrix?
Automation of Training
The training process never reaches a point where you can say it's "complete". There are always new technologies your company can use, updated laws and regulations for doing business, etc. Also, as employees leave your company, there will be new candidates are being interviewed and hired. Bottom line – there is always something new to learn.
An online training matrix automates how courses are assigned in your company. Did OSHA update an important safety regulation? The training matrix can help you assign a course that covers it. Did you hire new employees recently? Automate their orientation and onboarding. Will you start using a new type of equipment? The training matrix will assign your operators all the courses needed to use it safely. The examples could go on and on!
How Do I Start?
Having a training matrix is useful for any company. However, organizations of different sizes will need different approaches. However, when you're dealing with a large staff and very different roles, there could be thousands of course assignments going on at once. In this case, using a manually updated spreadsheet can become a full-time job. If this is your situation, an enterprise LMS software like BIStrainer is a much better option. Just set up the roles and skills, along with the courses related to each skill, and a training program is created automatically in seconds! Incorporating a training matrix to help coordinate your employees' training, is the first step to keeping them safe!
Do you want to learn more about the Training Matrix software? Check it out below.
Related posts