Posted on
September 27, 2021
in
Learning Management Software and Employee Safety
According to the National Safety Council, a worker is injured in the US every 7 seconds! Considering the effect injuries have on an organization, it's not surprising to see an increased importance placed on workplace safety training. After all, injuries at work have a significant impact on the health of employees of course, but also impact companies financially, reduce productivity, and are reflected in the overall morale of your workforce. Finding ways to streamline your employee safety training efforts makes a lot of sense.
It's great that you recognize the problem. The challenge is finding ways to make improved safety a reality.
An obvious way of improving the overall safety of your organization is to offer training that is both relevant and targeted. Educating your employees is one of the best ways of reducing injuries, whether the learning takes place online with the help of learning management software, or in a classroom. Keeping track of all the learning requirements for an entire organization can be a tall task, but by focusing on the right areas, you can take control of your safety.
Here are 6 tips to help you streamline your safety training management system.
MAKE TRAINING EASY TO ACCESS
Employees prefer having options for their training, and be flexible with how training programs are delivered can significantly increase engagement. Some courses will need to be completed in person. Other courses are perfectly suited for online learning. Providing a variety of safety training delivery options can increase worker participation through improved ease of access.
AUTOMATIC EXPIRY UPDATES
Training your workers is very important. Equally important is keeping them trained. And it can get very complicated tracking which training and which certificates are valid and which ones have expired. It's important to develop some sort of system to track these expirations. What will make your life especially easy is if you can develop a system that sends automatic notifications when expiry dates are approaching. Even better? Automatically send updated training course at the same time.
STORE ALL YOUR DOCUMENTS IN ONE PLACE
Training Record Management Systems exist for this very reason – to help keep track of all your documents in a single place. Cloud storage is a great solution, providing access from anywhere to upload files into a central location. This works well when employees upload their own documents. Just remember to setup a system so files are stored securely, in the correct format, and are easy to find when you are looking for them.
USE A TRAINING MATRIX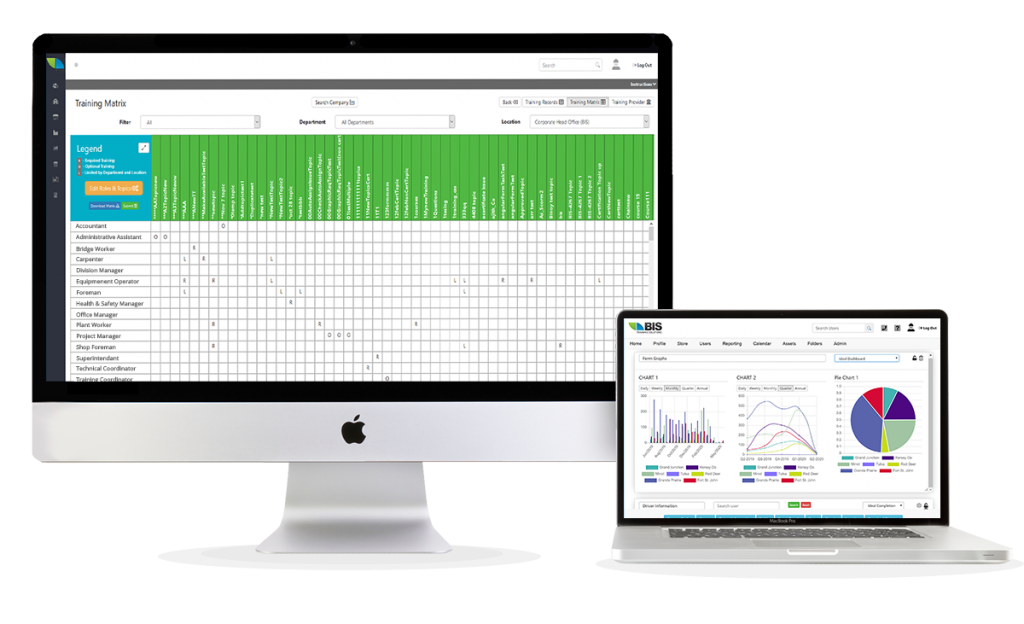 A Training Matrix is a way to view all the training requirements for your organization in a single visual display. It looks a lot like a spreadsheet, with employee roles listed down the side and required training courses listed across the top. Use checkboxes to map which roles require which training. Using this kind of tool makes it easy to plan your entire training program across all the different roles in your company. And finding a training matrix that can integrate into your learning management software is even more helpful!
ASSIGN TRAINING AUTOMATICALLY
When a new employee starts, or an existing employee is transferred to a new jobsite, their required training will need to be assigned to them. This is easily accomplished in small numbers, but if a group of employees are affected and all need updated training? Software programs, such as BIStrainer, can track the role or location changes for each employee and automatically send the new training programs directly to them. This makes the administration work for employee training much, much easier to manage.
REAL TIME REPORTING
The value of great reports cannot be overstated. Knowing exactly where your organization is at with its safety levels is vital information for any manager. Understanding who needs training, who has been trained already, and where the gaps are in your training program helps make sure workers aren't injured because of missed training, which in turn helps protect you from liability issues.
BONUS TIP: USE A LEARNING MANAGEMENT SYSTEM
Spreadsheets are great. They are. It's just that they have limitations. For example, a Training Matrix can be outlined very nicely in a spreadsheet, but getting it to send out automatic training updates when an employee switches roles in the company…well, that is asking too much.
Using Learning Management Software, such as our BIStrainer can take the stress out of managing all your safety training programs. When looking for your LMS, you'll want to ensure it includes features such as:
Course Delivery
Training Matrix
Employee tracking
Automatic notifications
Certificate storage and accessibility
Training Records Management
Customized Reporting
Automatic Course Assignment
All in one System
Cloud Storage
Mobile App
If the goal is driving down incidents and injuries in your organization, finding a great LMS will help immensely in your journey towards improved safety.
Use LMS Software to Streamline your Safety Training
There are a lot of moving parts when it comes to managing the overall safety of your organization. With the help of a robust management system, safety can be improved and streamlined. It's certainly possible to create systems for yourself using readily available software. At least, it's possible for small-scale systems. However, to achieve a truly stress-free safety training system you will most likely need the help of a Learning Management System.
For best results, look for an all-in-one solution that includes an LMS, an SMS (Safety Management System), and a library of safety courses already designed and ready to deliver. What matters most, however, is that the software is a perfect fit for your needs. And the best way to see that is to try it out. Intrigued by what our BIStrainer software can do for you? Book a demo today.
Related posts