Posted on
May 14, 2021
in
What is the Best LMS?
If you talk to any company head they will probably tell you that having a well-trained workforce creates a more productive organization. So finding the best LMS, or Learning Management System should be a top priority. Learning Management Systems are vastly used for a in a variety of industries but what is an LMS? Well, it's software that is used to create, deliver, and track online courses and training programs.
Not all LMS systems are the same, they are primarily used to deliver training programs to employees. This is to ensure that they are staying informed on changing safety protocols and always have their certifications up to date. Due to this increase in competency and training, the outcome is a decrease in injuries and fatalities. However, according to the Linkedin Workplace Learning Report, another great side effect is that it will increase employee retention.
When looking for the best LMS software, here are just six features you should consider:
1) A Training Matrix
A training matrix is a great tool for drastically reducing administrative work in your training program. It can also auto-assign training to new employees or if current employees may have changed roles within the company. With a training matrix, you can upload unique company roles and training topics, set the training requirements and courses, and assign them to thousands of employees at once.
If you have employees at many different job sites or locations who may need different locational training, a training matrix will be worth its weight in gold if it can be customized to distribute training to the many employees at these sites. The best learning management systems available to you will have a training matrix that is fully intgrated with their training software. It is absolutely something to look out for when weighing your LMS options.
2) Document Uploader
Managing physical documents is time-consuming, especially when they need to be scanned and uploaded to a platform. In many cases, this procedure also causes a loss of resolution, and the scanned document is less compatible than the original. LMS software includes an automatic document uploader to eliminate these steps while conserving document quality and compatibility.
Having a document uploader is especially useful when a large number of training certificates must be uploaded after a course. Administrators will no longer have to sift through stacks of papers and files, it can easily be uploaded within seconds right from the employee.
3) Reporting and Analytics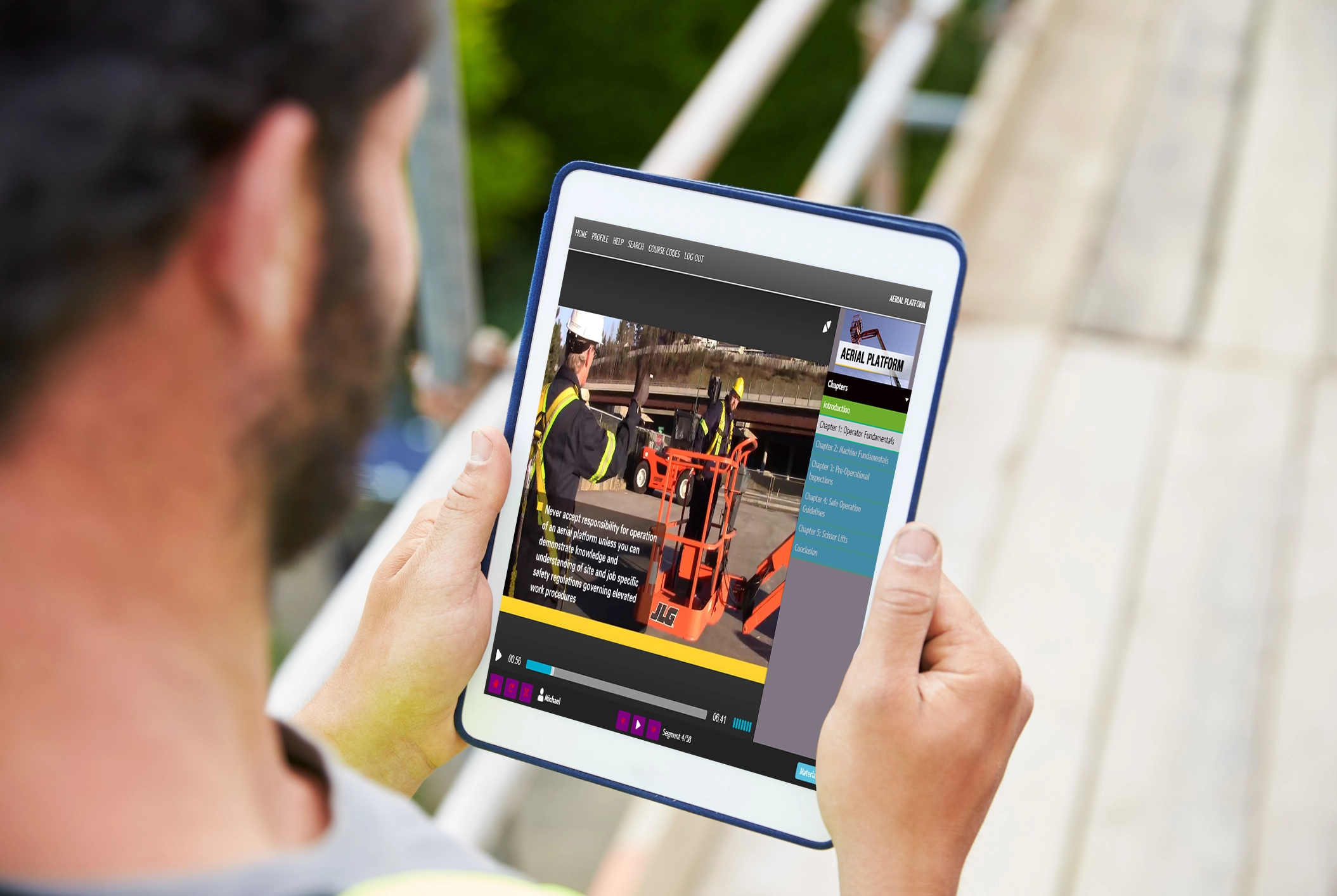 One of the most powerful components of great LMS systems is being able to pull reporting and analytics. You need measurable results if you are going to determine your training program's effectiveness. However, tracking training progress in a large organization can be very difficult, even more so when you may have hundreds of employees that are spread over multiple offices, cities, countries. The best LMS programs will include advanced reporting and analytics to provide insight into your company's current health and safety.
A powerful LMS especially comes in handy when tracking training for individual employees, employees with the same job types, or employees in a specific location. Specific training can be assigned to the relevant people and their progress can be tracked through the courses. If a certification needs to be renewed, a robust LMS will notify supervisors and the employee which provides massive time savings for any large or small organization.
Using the reporting functionality of an LMS you can keep on top of training and make sure employees do not have missing required training or upcoming expiry dates on their crucial training. Need to identify upcoming certificate expirations or areas of weakness in your training? Having strong reporting and analytics is your best bet.
4) Certificate Generator
Training certificates can be created for every course that is completed successfully which allows emplyees to provide proof of their qualification for specific jobs or tasks. In great LMS software, a certificate generator is abe to send the certificate to the employee as soon as its completed. These certificates should have a unique image, course ID and should be able to be downloaded instantly to their mobile devices for digital storage or printed for a hard copy. More advanced LMS systems may have QR codes on certificates so they can be scanned for more information. The built-in certificate generator is beneficial for a number of reasons, but most importantly it will streamline operations for employees and employers.
5) Secure Exam Engine
Exams are an important element of training since they indicate how much knowledge is retained with a numerical score. Exams contribute to safety in high-risk industries as they can help managers identify which employees have the necessary skills to avoid hazards. The results of many exams can also be aggregated and analyzed as to how skills are growing at the company level.
Any strong LMS will also offer a reliable, and secure exam engine. More advanced systems can allow you to offer a more robust exam by integrating long and short answer questions into multiple choice questions and provide insight into the retention level of the subject matter.
6) Virtual Proctoring
A strong LMS includes remote proctoring. Now, this may be remote proctoring or virtual proctoring which is uses a combination of a government-issued ID and biometric software to make sure the person writing the test is in fact the right person and that they are paying attention throughout the duration of the course. It is much more efficient than using human proctors, actually, the only time a human is involved in this process is if the system flags the account for any breach such as a new person in the camera or an extended period away from the camera. Virtual proctoring is a great option for deterring cheating and ensuring your employee comes out of the course confident and competent.
Remote proctoring may also be necessary for any courses or exams that have high stakes and can lead to fatalities if the employee is not competent. It may also be necessary if an external party is generating a certificate and wants to ensure the pupil has full knowledge. A great example of this is the LEED Green Associate certification.
The Value of a Great LMS
There are a variety of Learning Management Systems that range from basic platforms for smaller companies and advanced systems for multi-national organizations. However, the above features are some of the most valuable you can get in an LMS software. It is invaluable to have courses be converted into useful skills and knowledge for employees.
Deciding which components are the most valuable to your company is your decision and should be chosen based on these needs. It's worth investing in a great LMS system to truly educate your employees, keep them safe, and streamline company success.
Here is a comparison chart that shows what a basic, intermediate, and advanced LMS can offer.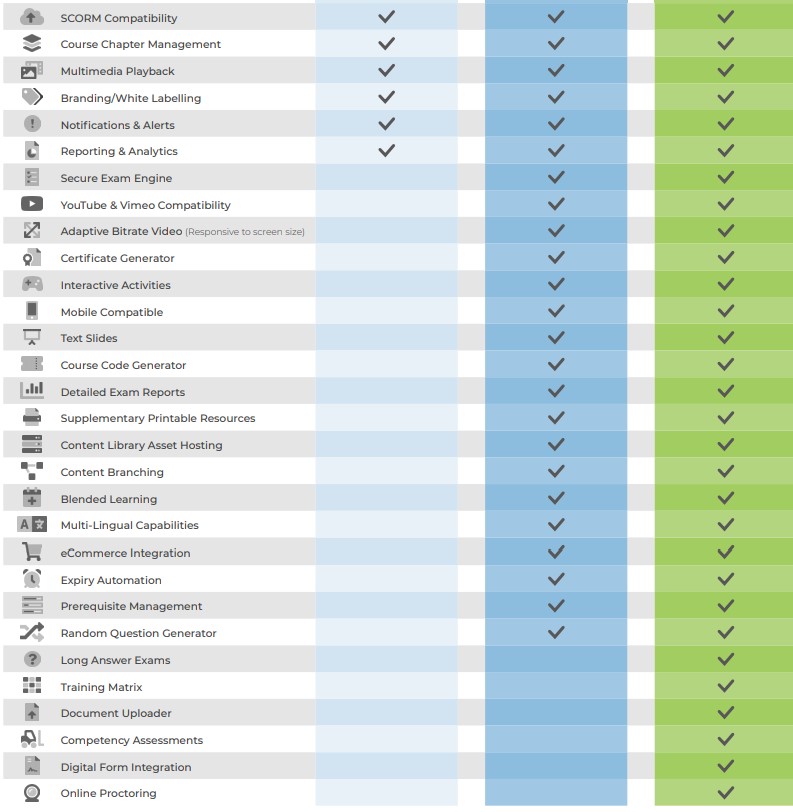 Related posts