The Best Training Management Software and How to Choose It
When a company invests in continuous training for its employees, productivity increases, and accident rates are reduced. Training is necessary to meet regulations in some sectors, especially high-risk industries like construction and mining. With training management software, companies can keep track of their learning needs effectively, while managing a customized program for each employee. 
Training management software is very useful for compliance, especially in highly regulated industries. For example, any information requested by an OSHA officer can be found in seconds, and certificate expirations can be tracked automatically for hundreds of operators. Managers can also check the individual training records of employees before assigning any risky tasks.
The following are five important features you should look for before purchasing training management software:
Task automation
Mass uploading capacity
Free trial opportunity
Compatibility with mobile devices
Detailed reports
In this article, we will briefly discuss how each of these functions helps your company.
1) Mobile Compatibility
To be useful, training management software should be compatible with any smartphone, tablet, laptop, or workstation. Software that depends on specific devices is impractical because employee access is limited. Mobile compatibility is a critical feature for any training management solution.
SafeTapp is a mobile app that offers this very useful function for remote worksites. The application works normally even without network coverage, and any updated information is synchronized when connectivity is restored. This function is especially useful in sectors like mining or oil and gas, which often involve remote sites.
2) Automation
Your employees should be able to concentrate on learning without being distracted by tedious tasks. For example, if your personnel must take an important course to meet a new regulation, you will want to minimize the related paperwork. Training management software can automate tasks that don't contribute to learning, while monitoring important dates – this includes the expiration dates of certificates and licenses.
Automation can motivate your employees to focus on their training since paperwork and other unwanted tasks are avoided. Using software, they can fill forms digitally instead of printing them and document stacks are eliminated completely. Training management software can even suggest courses automatically, based on the roles of employees and previous courses taken.
3) Detailed Reports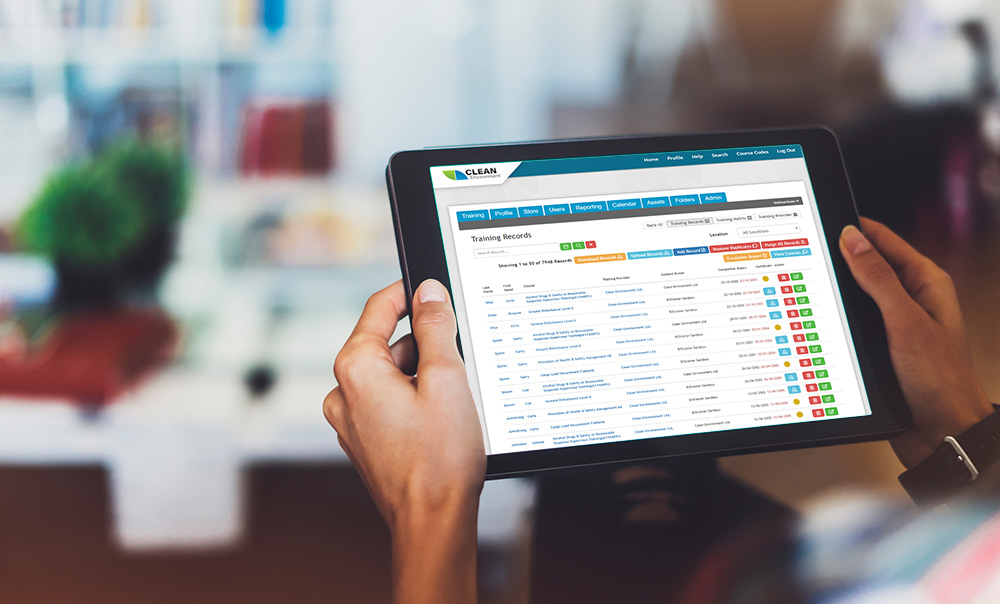 Even when training management software converts documents to a digital format, the amount of information managed is still the same. Automatic reporting is a great function to have since useful insights can be extracted easily from large volumes of information. For example, these detailed reports can be used to identify skill gaps, and plan the corresponding training.
Another application of automatic reports is compliance: training management software can gather the information needed by an inspector automatically, regardless of company size.
4) Mass Upload
Data entry and uploading can consume many hours, especially in companies with hundreds of employees. However, when training management software includes a mass upload function, even databases with thousands of records can be updated in seconds. Without this tool, large companies may be forced to hire data entry clerks, just to keep training records updated.
The best training management system should be able to retrieve mass records in any format, including Excel spreadsheets or CSV files. A task that would take hours with manual data entry is completed in seconds when the software is capable of mass uploading.
5) Free Trial
Even when working with the best technology providers, trying before buying is useful to determine which software meets the needs of your company. In addition, when a free trial is available, it means the provider trusts the product. The trial is also an opportunity to test functions individually, and you can ask about customization options based on your company needs.
Before purchasing training management software, you should make sure there are no hidden costs. For example, some providers may offer a basic version at a very low cost, but additional payments may be required to unlock the most useful features.
Conclusion
Employees can learn more efficiently when a company uses training management software. However, software adds more value when it has the right features. Task automation and mass uploads are very helpful; employees can focus on training, and not the management task associated with training. Mobile device compatibility is critical, since training management software is of little use when only a few employees have access. Getting a free trial is important since you can decide if the software is a good fit for your company. Finally, automatic reporting functions are very useful for management and compliance purposes, since the required information is extracted from large data volumes with ease. Training management software can streamline operations and make your organization safer.
Related posts