Posted on
March 25, 2021
in
4 Benefits of Great Equipment Management Software
Is Not Using It Costing You Money?
The maintenance costs of equipment are much higher when a company is reactive and only repairs equipment when it fails. A 2016 study published in the Structure and Infrastructure Engineering journal compared corrective and preventive maintenance, reaching two interesting conclusions:
Preventive maintenance has only 10-30% of the cost of corrective maintenance.
Every $1 invested in preventive maintenance yields $3.30 in cost savings.
The main challenge of preventive maintenance is keeping track of part replacements and inspection schedules for many equipment pieces. However, the task can be simplified with equipment management software, which offers features like automatic reminders and cloud-based documentation.
Considering that equipment malfunctions can cause severe injuries, preventive maintenance improves workplace safety. The US Bureau of Labor Statistics reported 5,333 fatalities in 2019, the latest year with complete published data, and equipment was involved in many cases:
Machinery caused 353 fatalities and 53,730 nonfatal injuries.
Tools, instruments and equipment caused 211 fatalities and 90,830 nonfatal injuries.
Vehicles caused 2,263 fatalities and 118,810 nonfatal injuries.
With such a high number of injuries and fatalities that involve equipment, companies should give high priority to preventive maintenance. Accidents can also be caused by other factors like operator errors, but effective maintenance can prevent injuries related to malfunctions.
Here are four of the main benefits of equipment management software. The potential cost savings of preventive maintenance are significant, and a smart software solution can help you achieve them.
1) Equipment Life and Replacement
Work equipment also has a service life, just like its parts, and companies must eventually purchase new machinery. A software solution can track the service years and accumulated mileage of equipment, so you can plan future purchases with enough time. 
The software can make it easy to decide between repairing or replacing equipment. For example, if a commercial truck is near the end of its service life, and an expensive repair will be required shortly, purchasing a new truck early may be a smart decision. When managing a large fleet, the software can record the maintenance history of each piece of equipment. Even if two trucks have been in service for the same time, their working condition can be very different.
2) Preventative Maintenance
"If it ain't broke don't fix it" is a popular phrase, but this does not apply for equipment maintenance. As previously mentioned, corrective maintenance is much more expensive than preventive maintenance, and equipment failures can cause fatal injuries. Jones Lang LaSalle collaborated in a study with The Association for Packaging and Processing Technologies (PMMI), and they found that preventive maintenance has an ROI of up to 545%. This means that letting equipment fail can be over five times more expensive than preventing breakdowns with regular service.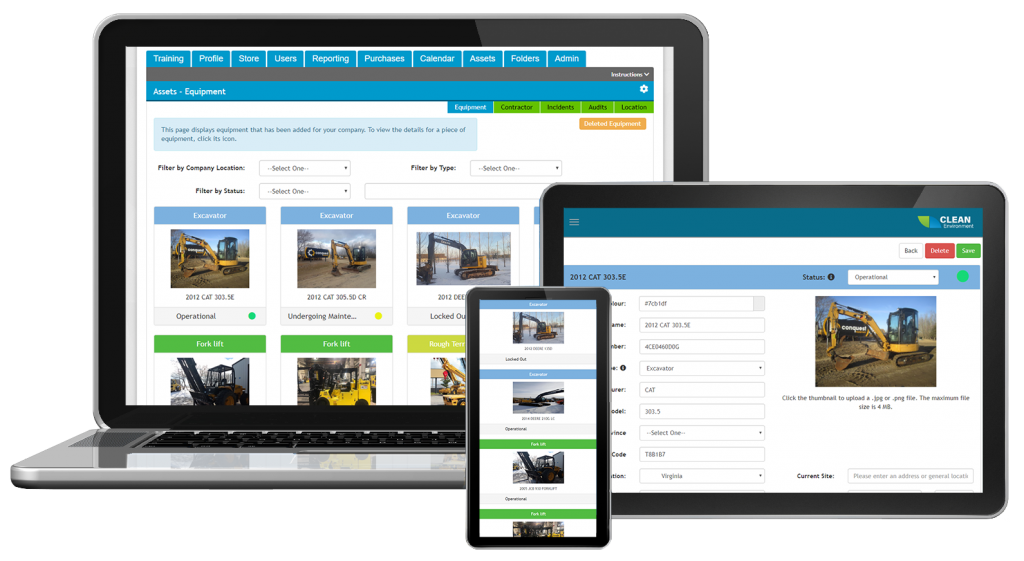 Another benefit of preventive maintenance is helping the equipment last longer which makes major purchases less frequent. The software can track the maintenance schedule of a large fleet with ease, ensuring that all equipment gets regular service and inspections.
3) Inventory/Part Management
A large company can have hundreds of equipment pieces, and each of them can have thousands of individual parts. Even the highest-quality equipment suffers mechanical wear, and eventual part replacements are necessary. However, managing a large inventory of replacement parts is challenging, especially when dealing with a large fleet.
With equipment management software, your company can easily handle inventories with thousands of parts. You can keep an optimal stock for all planned and unplanned replacements, but without purchasing more parts than necessary. Equipment breakdowns are already quite disruptive, and solving them takes more time when a key replacement part is missing. In extreme cases, an equipment failure may delay an entire project. Equipment management software has many functions to help you manage part inventories. For example, it can send notifications when scheduled part replacements are approaching. The software can also check if the parts needed are available, and send another notification if they must be purchased.
4) Centralized Data and Information
Physical documents have many limitations: they need storage space, their information can be lost if they are damaged, and finding specific files in a large archive takes time. These issues are eliminated with digital documents, since they can be accessed in an instant, and any authorized user can download a copy. Digital documents offer cost savings in the form of administrative hours and office space. Your management staff can access any file within seconds, and they will not waste time with printed documents. Digital forms also reduce human error, since they can be programmed to only accept information in the correct format. In addition, equipment management software is very useful in highly regulated industries, since it can generate detailed reports for inspectors automatically.
Conclusion
Companies can achieve many types of cost savings when using equipment management software. Maintenance schedules can be managed more efficiently, and automatic reminders can be configured for inspections, regular service, and part replacements. A software solution ensures that all equipment gets adequate maintenance while storing the corresponding files in a user-friendly cloud platform. Equipment management software also reduces administrative costs, since files are managed with minimal effort from office personnel. They can focus on productive tasks, while document classification and storage are delegated to computer systems.
Related posts