Posted on
April 8, 2020
in
Best Practices for Managing Training & Safety Records
Best Practices When it Comes to Handling Training and Safety Records for Your Employees
No matter what industry a company is in, the training and development of its employees will be a key part of its business. When it comes to high-risk fields such as Oil and Gas, Construction, Mining, and Transportation, however, safety training is absolutely non-negotiable. The process of handling all the details and records relating to your company's training, therefore, needs to be just as robust as the training itself. As your firm grows, managing such aspects as individual training requirements, results, certificates, and expirations will become ever more complex.
Here we take a look at two of the best ways to manage training. These are best practices right now for managing your employees' training records – whether on a large, medium, or small scale.
Go Digital
There was a time when the mountain of employee information a company compiled could justify a whole floor full of filing cabinets to itself. Fortunately, those times are a distant memory for most organizations, and the same amount of information can now be contained on hard drives that take up next to no room at all. With the rise of the cloud, more companies than ever are utilizing remote backed-up servers, meaning that their information is easily accessible from anywhere – all that's required is an internet connection.
Going digital is one of best ways to manage training and is a huge time-saver. Instead of hunting down files and documents manually in the physical location where they're stored, you can now search for a record from anywhere within seconds. It also eradicates one of the most frustrating – and occasionally, disastrous – parts of manual information storing: misplacing or losing important documents.
Many companies put off going digital because they – wrongly – believe that their forms are too complex to be replicated digitally. This simply isn't true. Almost all forms, no matter how complicated the requirements, can be handled by digital form software. Whether we're talking COR audits, elaborate hazard assessments, competency validation forms – or pretty much any other type of form – they can be created digitally. Not only that but if changes or amendments need to be made, this can be done quickly and easily on your online template, saving you the money you would have spent in reprinting costs.
Going digital with your employee records, files, and forms is one of the best practices you can employ to make your training and record management much more efficient.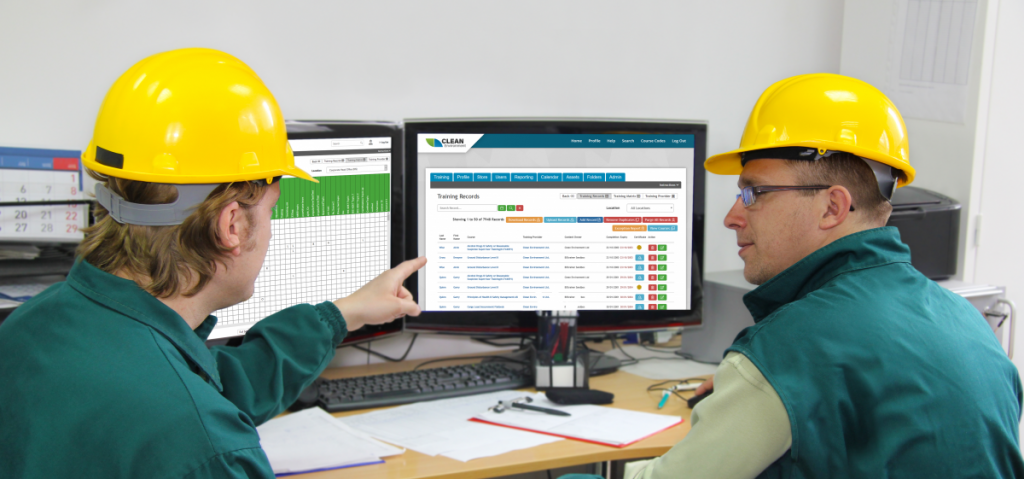 Get Automated
For small or start-up companies, maintaining training records in a spreadsheet system with links to relevant certificates and details of expiries can be a fairly simple process. If your company is a growing entity, however, this will not be a practical approach for long. Once you have more than a handful of employees to track and monitor, managing your training processes manually fast becomes an impossible task.
That's why the second best way to manage training is to automate as much of your training record management as you can – this stops it becoming overwhelming for your HR department or the Safety Managers tasked with making sure training needs are met. By incorporating a system that employs extensive use of automation, you can let tools such as training record management systems, learning management systems, digital safety forms, and training matrixes take over the heavy lifting. These tools are capable of communicating and working together seamlessly to ensure your training requirements are all met with very little manual input needed.
Training matrix systems are designed to take over the handling and management of the training needs for your firm. You simply need to add each individual role in your company along with the training needs for that particular role. Whether it's for an HR Manager or an Engineer, the process is the same – upload details of the role, identify any training requirements and let the system do the rest. You can also integrate the software with a learning management system, which means that new hires will automatically be sent all the courses and training materials that are required for their specific role. There is also a function to remind managers and supervisors when training expirations are on the horizon, allowing them to keep ahead of employee training requirements and reduce delays caused by lapsed training. Training – and the records and documents that go along with it – will always be an integral part of any company, particularly those in high-risk sectors. The way you handle your safety and training records and allocate training, however, is quickly evolving, but implementing these best practices will help you to stay on top of the competition.
Related posts