Posted on
April 4, 2020
in
How Digital Safety Forms Are Transforming Work Sites
Paperwork in the traditional sense of the word is all but obsolete in some departments and industries today. While in the past, companies kept stacks upon stacks of hard copy documents relating to occupational health and safety, more and more are digitalizing their processes. And when you look at the benefits, it's really a no-brainer. Switching to paperless is both time and money-saving, but not only that – it is also a more efficient way of doing things. With more people than ever relying on mobile phones and devices to carry out their day-to-day activities, those companies not going paperless risk lagging behind. Below are some of the main benefits of using digital safety forms.
1. Reduce Hold-Ups
For high-risk industries such as construction and oil and gas, making sure that employees are up-to-date with their training is paramount. Letting a worker's training lapse – or not providing adequate training to begin with – can prove to be fatal and lead to costly lawsuits. However, keeping track of which employees need which training at any given time is not always a simple task. Depending on the size of your firm and the number of people working there, it can often be easy to overlook training needs. This has a knock-on effect in terms of hold-ups that can occur when a worker needs to carry out specific training before they can continue with their work. Incorporating digital safety forms into the process takes away the hassle of monitoring training requirements for your employees. Safety Managers will be reminded of any expiries that are looming, meaning they can arrange the necessary training in plenty of time to avoid any hold-ups.
2. Save Time Searching For Paperwork
Gone are the days of searching through dusty basements for long-lost paperwork or trying to track down a misplaced hard-copy document. No matter how efficient the filing system, traditional paperwork has been going AWOL since time began. At times this is merely annoying, but on occasion losing a document – especially OHS documentation – can be disastrous for a company. Document management software has, however, come to the rescue in recent years. Not only does it ensure that you won't misplace that crucial piece of paperwork when you need it most, but it also simplifies the process of locating documents in general. Search and cross-referencing tools mean that anyone with access can easily locate the paperwork they need quickly – which cuts down on both stress and time spent.
3. Cost-Effective
Old school safety forms can cost companies a significant amount in terms of printing costs. While this might be considered an acceptable expense at the outset, any changes that have to be made – or mistakes that need to corrected – can see the whole lot being consigned to the trash, essentially flushing your printing budget down the toilet. Digital forms eliminate this issue completely. You can create forms so that they meet your needs and then change them or make corrections as often as required. And they are designed for online completion – via a variety of devices – which means they won't cost you a cent in printing. Not only will this save you a lot of money in the long run, but it also saves time in terms of manually entering the information onto the system as everything is available immediately.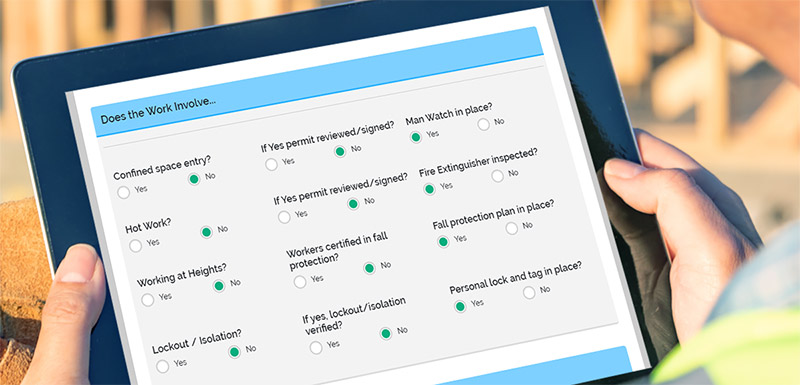 4. Reduce Admin
Making sure a company's training requirements are consistently met and up-to-date is no mean feat. It can be both daunting and time-consuming attempting to keep on top of who needs which training and when. Adopting a Training Matrix, however, gets rid of all that worry by taking over the burden of remembering deadlines for training and identifying the training required for new employees. With minimal input from your end, a Training Matrix can handle all the details when it comes to training. And it all takes place in a handful of steps:
Entering the roles within your company and the necessary training topics
Courses are then identified which fulfill the training topics
Required training is then allocated to individual employees – training can be designated as optional or mandatory
The Training Matrix then takes over and delivers the necessary training to employees
An Automated Future – Worksites globally are being transformed by the incorporation of digital safety forms in combination with a Training Matrix. This means an end to dead time spent on data entry, manual tracking of requirements, and searching for lost documents. In essence, automation is handling OHS forms and paperwork way better than we ever could, making companies more efficient while saving them time and money. It comes as no great surprise, then, that paperless policies and procedures through automation are becoming the way forward for more and more firms around the world
Related posts